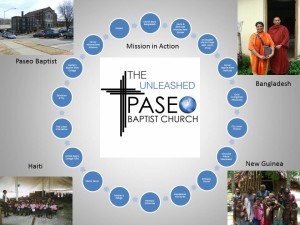 Missions is another ministry at Paseo Baptist Church where we follow the Great Commission as stated in Matthew 28:19-20 (King James Version):
19 Go ye therefore, and teach all nations, baptizing them in the name of the Father, and of the Son, and of the Holy Ghost:
20 Teaching them to observe all things whatsoever I have commanded you: and, lo, I am with you always, even unto the end of the world. Amen.
We exemplify this by serving in and financially supporting home missions and foreign missions organizations who are preaching and teaching the Word of God and other organizations who are meeting the needs of our community, such as:
Carver Baptist Bible Institute
Carver International Missions
Child Evangelism Fellowship
City Union Mission
Citywide Prayer Movement
Embassy Church
Mendenhall Ministries
Mosaic Ministries
Harmony Ministries
Mother's Refuge
Paseo Baptist Church of South Africa
Pastor Serve
United Negro College Fund
The Urban Alternative
Salvation Army
Western Baptist Bible College
Wycliffe Bible Translators
Mission minded individuals are also involved in activities within and outside the church.  We serve each 3rd Saturday at City Union Mission where we feed the residents and provide the good news.  We serve in the Children's Church every 5th Sunday.   Each December we provide a meal and a program for our assigned Angel Tree families and give them the Christmas gifts that have been so generously donated by our congregation.  We have a Foreign Mission program which highlights one of our foreign missionaries.  We sponsor church wide fellowships after morning service, such as, Valentines Day, Mother's Day,  and Back-to-School.   And finally, we have an Enlistment Tea where we encourage all members of the congregation to become involved in missions!
The Missionary Union, Evangelism Team and Men's Ministry have participated in and hosted the Eye Glass Clinic with other churches in the Kansas City community.  See the video below that highlights one clinic held at Paseo Baptist Church.